So so so so....
After a bout of squeekiness of the voice, yep it totally blew out saturday night.
Over about an hour i went from cute little peep squeek voice to full raspy enphzema paient!
This didnt stop me from winning the pod war though.... AGAIN....
Jolyon and i took it out, hands down. We did a movie/tv show/showtunes theme:
*Beverly hills 90210 theme
*Fresh prince of bel air (full length version, no one knew the 2nd verse because it wasnt on the show.)
*Aqaurius (hair)
*I dream of jeannie
*Hard knock life (annie/ jay z)
*Jump around (house of pain from the mrs doubtfire soundtrack)
*The cheer from bring it on.
*La bamba (this is so in a billion soundtracks probably)
*The addams family theme.
Can you imagine the poor person who had to follow us?
I can it was a boy called Tom or Dennis or Korea or Doug, anyway he couldnt match it (who could?!?)
but Jolyon and i told Mikey to give him 10's because he was totally the cutest boy i've seen in months.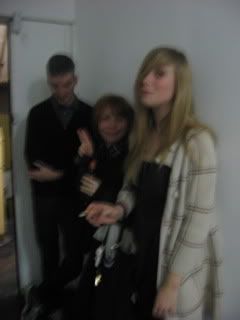 This is actually friday at the heights kill pixie exhibition, it would have been fun
if i wasnt so self concious of all the guys perving on me! Its hard being so pretty.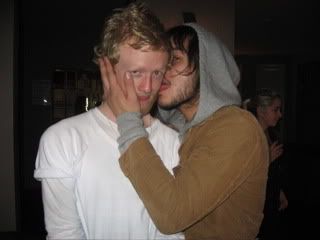 Mini-Gus and Craig were found exploring the new upstairs level of the Gass light, its so clean
and new, i almost wanted to give it a few puke stains on the floor just to make me remember where
i was.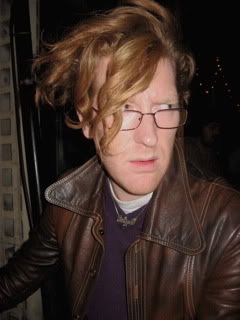 Jolyon "Your going to play what?", "Ummmm ok dont worry i wont laugh in your face or anything!"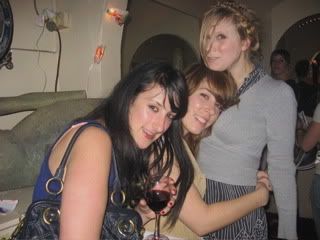 The mid 20's female chapter of my fan club were present, look how adored i am.... They just wouldnt let go.
PERSONAL SPACE.
Yeaaaaaahhhhhhhhhh facial facial facial.... the remainder or our winnings at the pizza shop.
A really bad time to break out the camera, but the excitment of the win was just in the air.
There were these totally amazing girls with disco legs who were reincart's of Katie from big brother.
So hot!!!!!!! no more than 17 years old and they blew some guys off saying they were going to get TATTOOS!!!!!!!!
Dregs of a totally great night, i would pay someone $100 if they licked that diseased table. Ewwwwww
Cuter than cute, what happens when you cross a dutch drunk too many beers somep sychotic need to win and Heidi?
THIS PHOTO!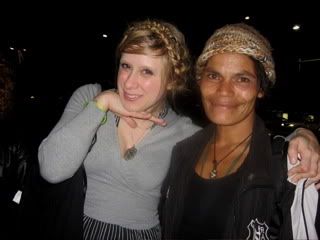 Then at taylors square, there was some half cocked plan that we had to drink our beer there, if not anything just to
humble my increasing ego. Then we were over it, so we gave this woman our beer and hot tailed it outta there.
At this time i thought i had lost my phone, but jolyon was hiding it so i he could give me a present on sunday???
MY OWN PHONE.... thanks so much. Everyone should do that, steal someones things, wrap them up and give them back.
Because they actually something they need.... whos the lucky person with a birthday coming up ???? SAM HODGE!
Tiffany's, Cartier, Harry winston, Bvalgari??????? not for me. Just a plasic glow stick braclet.
Do ravers have glow stick engagment rings?
SUNDAY or FUNDAY, which ever: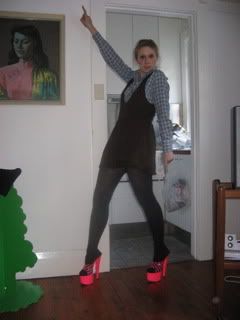 Just fixing a light lunch hanging out at Jolyons house, i was going to go to the video store in these but
the only reason i didnt is because of fear of ankle breakage. But they totally go with my outfit...
its all the rage in astonia girl guide/ stripper, TRUST ME!
Just watching telly, in my slippers....
Our video choices were : Degrassi second season, Grease 2 and Final destination 1.
Thats what i call : the best sunday ever!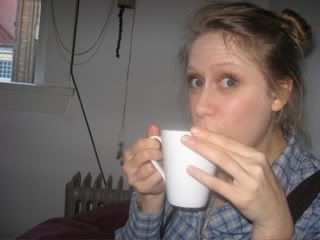 Tea for two and two for tea! Look at my party bags under my eyes, it adds so much character.
This is the 'CRAZY POPPER', its so great! The little white cup on top melts the butter while the
the pop corn is popping inside..... Its so exciting.
Its a total 2006 neccesity, up there with the home snow cone making machine.
Kind of obsessed....
So next week, is the pod war GRAND CHAMPIONSHIPS!!!!!!!!!!!!!
And 'TEAM NELLA' will be out in force, i'm kind of like Reese Witherspoons Character in Election.
But drunk.... There will be heaps of team spirit including posters, badges, stickers and WAR CRYS!
So you better be there to support watch me WIN WIN WIN!
x NELLLLLLLLLLLLLLLA