So today, i did my favorite kind of shopping.
I had a craving of the stationary kind......so i went to office works with my sister Tosha and her boyfriend Jack.
Here we are in the very extensive office chairs section.....of corse we had a race it wouldnt have been a trip to office works without one!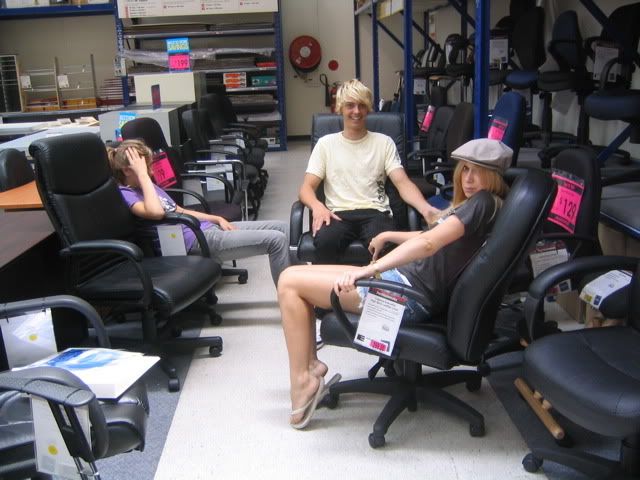 Most girls go shoe shopping if they are a little depressed, i do that sometimes too.
But the only kind of shopping that really hits the spot for me when i am a little down in the dumps is stationary.
Maybe its the vast array of note pad's, drawing pins with little hearts on them, personalised binders and my personal obsession labeling machines.....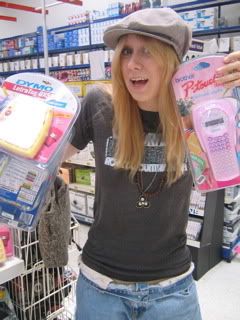 On friday night i felt like crap after having another fight with my exboyfriend.
Not being noticed and being ignored is the worst feeling ever, i dont know if its this impending st valetines day thats coming up that has made me on edge and slightly self concious that i will be all alone on the 14th of this month.
Anyway, so after a day in bed and crying over stupid films last night and not eating much, i knew i had to pick my skinny ass up out of bed and go to office works. Just wandering the isles of embossed paper and filo-faxes made me feel better.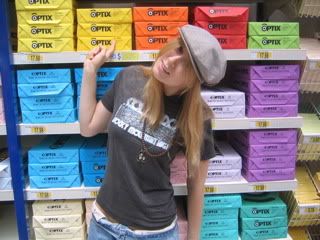 Now i am going to open all my stuff and feel bad about all the excessive packaging that cant be recycled.
watching: Playtime, a french movie from the 70's very funny, also got out elizabethtown last night from the video shop.
Couldnt focus that much because my mum kept on saying i am like kirstin dunst's character.....its ok though.
Listening to: Cat Power greatest hits, Brian Wilson-smile, !!! - feel good hit of the fall
x nella