So friday was finally here, i had a lettering class in the afternoon which seemed to endlessly drag on.
There is only so many times you can write the alphabet without going slightly mad.
Had arranged to meet Steele Bonus at 5.30 outside Benny's work on crown st. I was late and met him at 6.30 at china heights.
The exhibition was good, saw my good friend's gareth and dom who i hadnt seen in a while.
Anyway, i drank too much and fell down a hill grazing my hands i am still suffering from the gravel in my palms......the highlight of the night was having a hot-dog with sam (my main gay.....everyone needs a main gay in their lives.) he got a pepperoni slice, but was jealous of my hot dog because of the cheese sauce that looks like cum dribbled all over my face. He said it was just like a perverted Terry Richardson advert.
Here we are looking like we have been busted doing in an alley.....:
Steele Bonus at Judgement bar......approx 3.30am.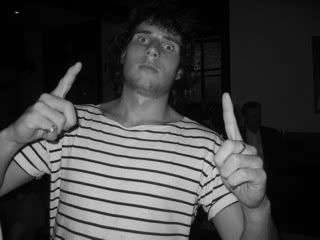 This man is an eligable bachalor ladies, he is the best, likes squash, a good dutch beer and his oma's Het Gouden Speculaasje
(delicous spiced dutch cookie). Lately he has been having a bit of bad luck with the ladies....to cut this short, skanks need not apply, but if you a sweet little lady who wants a piece of the Bone-Man email me and i will set you up! nellavan@optusnet.com.au.
I woke up yesterday feeling very ill, no doubt it was from those dodgy free brazillian beers me and mick were skulling at the exhibition. (sorry i accidently deleted that photo of us sweets, lets meet up tomorrow afternoon so i can give you that new music anyway)
Listening to: Fuck Buddies - Invasion..... check their myspace! They are very good.
xx nella ( cupid to my friends)