Wednesday's are usually movie day, Jolyon and i skip class and go skope people at
the mall or in china town and have dumplings at the place with the vines on
the ceiling and you can see them making the noodles or sussex centre food court.
Buy some phone trinkets you know usual china town stuff.
But this wednesday it was so nice we just hung out at the park.
We found the best spot on some memorial thing that we hadn't ever noticed before.
Must have been important, because people were taking photos and stuff.
We stopped off at starbucks to get a jaffa frapa mocha double shot skim soy latte venti frappachino,
i needed to it complete my outfit. Cute girls are always sucking down a bucks.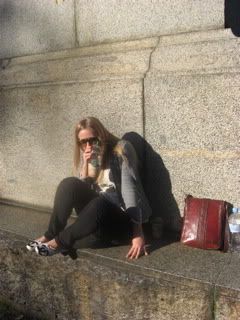 This photo would be in Nylon magazine after i stared in my first indi film where i was a
conflicted teen in new york who had lots of drugs and heaps of tit scenes. Dont you think?
And the article would be about how natural i am and how i use method acting.
I HATE ACTORS...
Speaking of babies, where is baby suri? Its so a hoax tom cruise is a freak.
This is Jolyon (most featured friend on the chronicles, i should give him a ham, like employee of the week)
doing the signature Nella pose, its a good one when your having a body dismorphic day and feel
a double chin creeping on......also totally cute when drunk!
Central Park? Say what?
By this time i wasnt feeling to good from my XXXXXXXL buck's chino thing....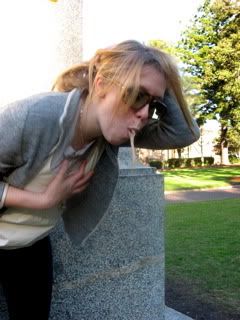 See....It was just a bit to much....maybe thats how the staff at starbucks make the frappachino's
so frothy.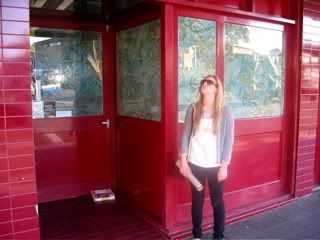 So word on the street was that Zit remedy's (artctic monkey's) after party was going to be out of control.
Everyone who is anyone was going to be there even mischa barton.... So i thought i should start lining up
early, you cant miss that shit. But i forgot my sleeping bag and yoga mat for comfort so we gave up.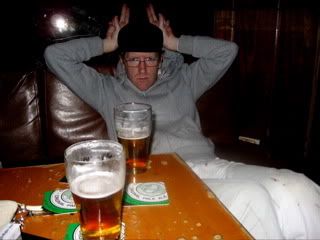 Wednesday is also ladies mid week drinks, with Benna..... Jolyon was allowed to stay for 2 beers
because he is a gay.
Haven't you heard? I'm popping a little one out soon..... But still squeeze a few in at the ass-light, thats
ok before the third tri-mester.... maybe?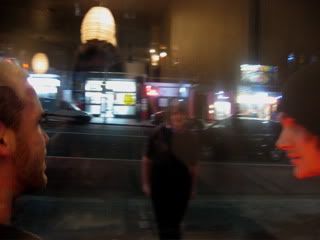 No dinner or lunch and two many drinks ladies needed to relocate and get some yellow fever at Don Don.
We sat at the counter to people watch the street, and outside waiting to be seated was this hottie hot hot, (the
one on the right) like a more defined sweeter version of josh harnett, so Benna went outside
so we could pretend i was taking a photo of her, hope the hottie hot hot doesnt mind i'm posting him
all over the nerd net?!?! oh well.... "Hi hottie hot hot!"
Chinese seaweed salad was so good, so cultured....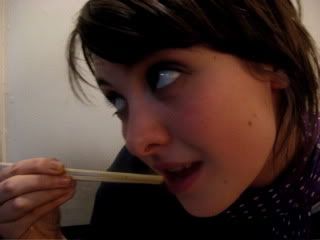 All of the wednesday ladies happy hour converstation is top secret but this is a snippet:
"That boy is so hot like a delicate josh harnett"
"Sooooo hot"
"How many calories and fat is in a chicken katsu don?"
"Ummmmm"
"I think like a billion"
"Hottie hot hot is coming out way 2'0clock"
"Have i got chinese seaweed salad in my teeth.?"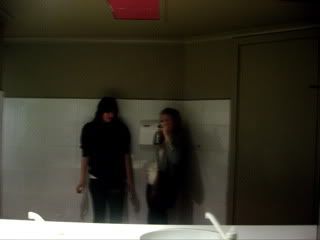 Ending the night trying to get red wine out of my cute top sucked.... look how short i am compared to Benna.
5'5 is crap, but i can fit into small spaces! Maybe she will give me her hot pins?
Take it breezy!
Nelson
xxxx
Listening to: Nas- if i ruled the world,Blur-she's so high, Count bass D - Hello test test, Cuthbert and the night- red frogs,
The vendettas- strangers.
Wanting and waiting- Romance was born bedazzled dunlops....
Inspired: Karl Lagerfeld- (on chanel tennis shoes) "Oh you know you can always make it beautiful with some crystal beading and satin ribbon"