So with unvailing my that i am the biggest loser ever.
Coming second is so bad, its worse enough when you lose out on EBAY
but at the pod war.... holy crap talk about my own personal r'n'b superclub falling down around my
skinny ass!
It was a messy night from the begining, running on next to no sleep in 48 hours leading up.
And blowing out the night before at the strokes, and then working a full day with out much preperation.
And all the wrong people turned up, sluts to my left, whores to my right, long haired metal heads everywhere.
It was looking like my r'n'b crump-tastic set list was going to fall around my miu miu stits!
"All my ladies pop your pussy like this....." OH NO YOU DIDN'T!
But i did stick to playing things i had never played before, which should be a rule in the next round.
I NEVER WANT TO HEAR "HOUND DOG" EVER AGAIN!
All photographic evidence of the night has been destroyed, sorry.
But, back to friday.....
So this girl i met on myspace who had an almost identical intrests section as me, SNAP BITCH!
We got to personal messaging, and leaving hallarious comments on each others pages, and now are
almost best friends.
She totally begged me to go to see the strokes with her over msn, so i did.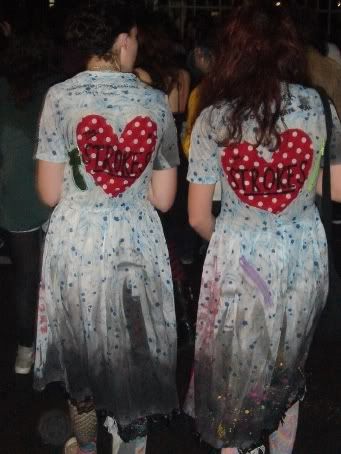 These are the matching outfits she made for us to wear, the fluro puff paint and shoe polish looks
like it took hours to do. We looked like the biggest strokes fans ever! COOL!
Because we had never met in person only over the internet and her myspace photos had way
too much fringe and were all taken by herself from abover her head, she had to tell me what she
was wearing so i could spot her...... ummm how embarassed was i.... Look at them.
The matching outfits just kept on coming all night long.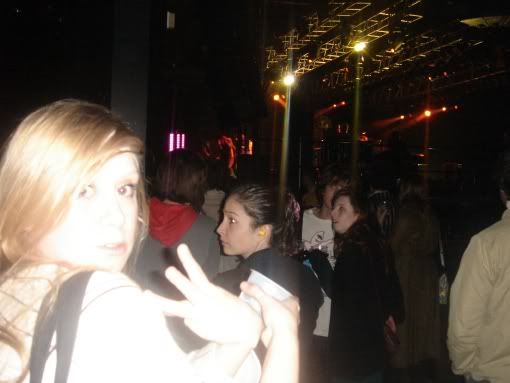 This is the offical gang sign of The strokes australian unofficial online fanclub, we arranged
in the forum, that we should all do this sign so we would see each other.....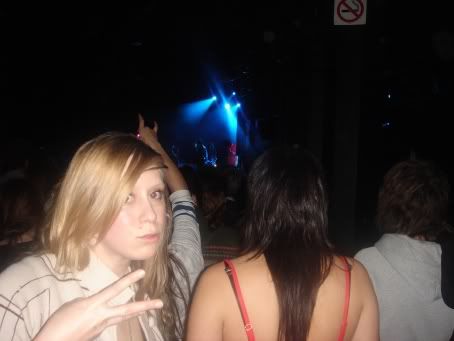 Waiting and waiting.... no one was doing the secret Strokes unofficial online fanclub forum
gang signs........UNTILL.......
Who knew Dool's was in The Strokes australian unofficial online fanclub, his log in name
on the forums is :" FAB IS FINE, AND ALL MINE", mine is : "NICK LET ME TAKE YOU TO MY ROOM OF FIRE"
He was throwing up the gang signs from the other side of the room and spotted me.
This is me sending telepathic messages to nick on stage, "NICK I LOVE YOU, LOOK AT ME, STAGE RIGHT IN THE
GAP NEAR WHERE THE SWEATY CROWD SURFERS COME OUT".
He so looked at me.... straight in the eyes. Thats was the night nick fell in love
for the first time.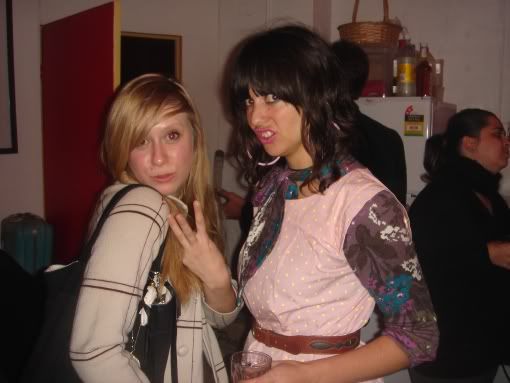 So after the show, my new internet friends told me they could get me into the vip after party.
With a lot of begging, i went along. It was not the vip after party it was so dumb get together office party.
Losers. This girl was kind of nice, the nicest one there. By this stage i started to mingle considering how
lame my internet friends had become.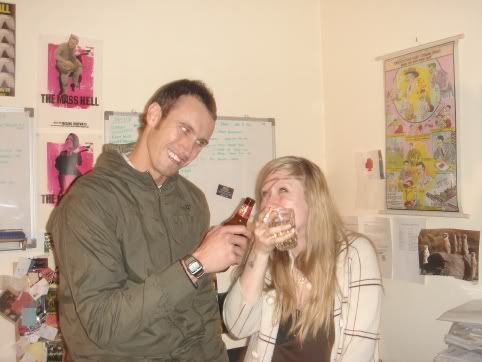 Me and Frizeey just shooting the shit, he was funny but i moved on pretty quick, mainly because i was getting
a neck ache from making out with him, geeze dont guys no its mean to grow past 6ft!
Then i started making out with The Ronnies, bailed when they wanted a threesome, but i am totes
looking forward to their concert on thursday, they're going to dedicate "every thing is f'ed up straight from
the heart" to me.
By then Chippy was the only semi decent guy left at the party, he started with " you know i have learnt some
amazing things on the great outdoors, i know about you dutch ladies....so how bout it?" HE KNEW NOTHING!
Let me tell you about the Chippy: 1. THAT TAN AINT REAL, ITS ABOUT AS REAL AS MY TITS! 2. HE LASTS ABOUT
AS LONG AS HIS LAST DANCE ON DANCING WITH THE STARS..... 1.5 MINS....CUT TO THE AD BREAK CHIPPY!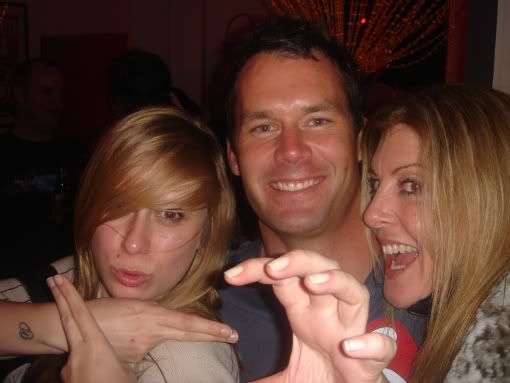 This was him explaining how he was a tiger in bed and shit..... Wrong more like a toy poodle!
Wish i didnt give it up for him, but its ok he has now made me want to wait till marriage.
So there is an up to the whole thing.... pitty it wasnt him.
Listening to:
CAMP LO - luchini (is this it), Trina with tweet- no panties coming off, my neck my back-khia, so hot- foxy brown,
Who made who- space for rent, Band of horses-great salt lake, AND THE RONNIES.
Watching:
NIGHTY NIGHT.
XXXX
nelson
p.s An avid reader sent me a questiong:
DEAR NELLA,
WHY DONT YOU CHECK YOUR SPELLING?
I AM A STICKLER FOR GRAMMER AND ITS ANNOYING ME.
YOURS ALWAYS,
SPELLING BE QUEEN
**********************************************************
Dear Bitch,
I dont check or correct my spelling because it keeps
me real, no one likes a perfect princess. Its all about flaws.
Let down your pony tail and let your boyfriend do you in the butt!
Signed,
NELLA!