After such a civilized evening of political and social converstation, which was really nice but i needed to bail for more fun!
Nina's house party was calling and my pre booked 12 mid night silver service turned up as all pre arranged! Many of you would be suprised but my life runs like clock work with the organization of a well oiled army.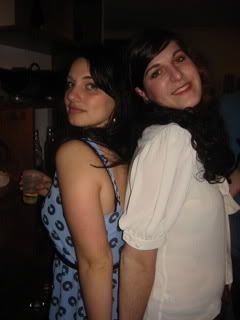 Nina and Sophie are really great at the Ronnies sig. pose. We are planning on starting our own reality tv show called "so you think you can internet?".
Nina and Will, ummmm can someone tell Will that his slut spiral has to stop its getting really predictable and boring....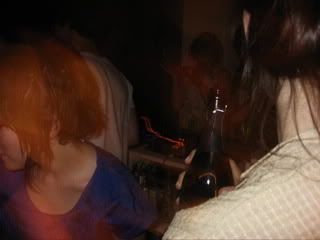 A shot capturing the electric energy building up for the debut of our all girl DJ troope!
Nina is the secretary of the Un-Official Jay Z fan club, look at her throwing up diamonds. That guy in the background is really a creep, he was creepin around all night. Michaella and i were taking a girl break in Nina's bedroom (talking shoes and boys.)and the creeper came in and was like "Mind if i do some coke. want a line?" Ewwwwwyer are you serious? yeh right creeper! AND HE WAS ENGLISH!
'show what you got lil' momma, show me what you got pretty lady!'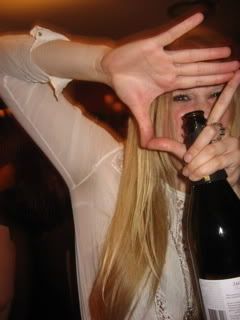 This photo really doesnt need much explaination, dont you wish your girlfriend was hot like me?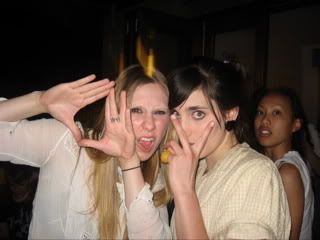 Michaella was there, she looked really thin! We were on a mission to just be the ultimate house party bitches.....here we go:
Burning holes in the dance floor, this picture is so pretty! We were dancing to S.O.S by Rihanna....although we are all Jay z children!
We both made out with the hottest boy at the party! Dean....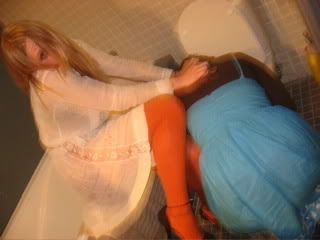 Then i was on the toilet and Mick was just standing there talking shoes and boys again, when this pissed girl walks in and says she needs to puke. Here i am helping her michaella thought it was hallarious because in between spews she was like " i know you, your nella." Yep.
Nina started off our all girl dj troop by turning on the microphone.... amazing.
We were either playing Kanye west work out plan at this point or All Saints never ever! On All Saints news.... they have a new album, i always knew those appletons were better than just fucking oasis.
The combination is better than pork and sweet and sour sauce. We are available for hire, batmitvahs, wedding's, christening's, 50ths... whatever we are your ladies.
This photo looks like someone is trying to punch me in the head, they probably were. But i'm sure its just they were doing some outstanding dance moves and got in the way of the camera.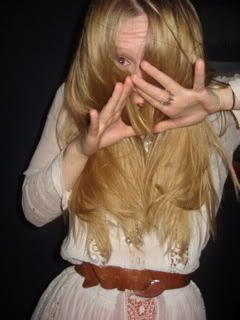 This is about the time i left and went home to leave.....
Very exciting Michaella's boyfriend Duncan is going to do a second speaking roll on home and away as a yabby creek police officer! First famous person on telly i know, isnt that great. Michaella is now a total token hot girlfriend of a celebrity, she deserves it.
The Un Official Jay Z fanclub is going well, thanks for asking.
C-Haw is the un official Vice President, i am the President.
If you want to join we are considering memberships, but you will have to pass an indepth background check. So if those 4 year overdue blockbuster videos have blackend your name don't even think about it!
Tonight i'm taking my mum to a secret Kings of Leon show, they are her favorite band, isnt that sick and embarassing.
Take it breezy homies...
xxxx
Love nella