Friday night Miss Viv Vaux had an amazing birthday dinner, in her mid 20's shared warehouse filled with our nearest and dearest mid 20 year old friends.
It was like a 'secret life of us' flash back scene.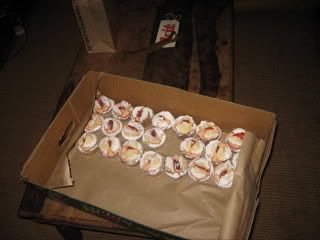 These were my contribution, i'd woken up before the sparrows to bake cup cakes.
I had to work at the stupid slaughter house that day, so the only time i had was well into the A.M.
Vanilla cupcakes:
(makes about 24 cup cakes, depending on your cup cake papers.)
1 and 1/2 cups self-rising flour
1 and 1/4 cups all-purpose flour
1 cup (2 sticks) unsalted butter, softened
2 cups sugar
4 large eggs, at room temperature
1 cup milk
1 teaspoon vanilla extract
Method:
1. Preheat oven to 170 degrees.
2. Line two 12-cup muffin tins with cupcake papers.
3. In a small bowl, combine the flours. Set aside.
4. In a large bowl, on the medium speed of an electric mixer, cream the butter until smooth (*THIS IS VERY IMPORTANT, IT HAS TO TURN WHITE.). Add the sugar gradually and beat until fluffy, about 3 minutes. Add the eggs, one at a time, beating well after each addition. Add the dry ingredients in three parts, alternating with the milk and vanilla. With each addition, beat until the ingredients are incorporated but do not overbeat. Using a rubber spatula, scrape down the batter in the bowl to make sure the ingredients are well blended. Carefully spoon the batter into the cupcake liners, filling them about three-quarters full. Bake for 20–25 minutes, or until a cake tester inserted in the center of the cupcake comes out clean.
5. Cool the cupcakes in the tins for 1 hour. Remove from the tins and cool completely on a wire rack before adding filling.
6. Cut a little round out of the top, making a little well. Then cut the excess into wings to place on top.
CREAM FILLING:
2 tubs of creme fresh
Vanilla extract to taste
1/2 cup of icing sugar
2 drops of rose colouring
Mix all the ingredients together with a spatular and fill little wells in the cupcakes.
Then put the little wings on and some sliced strawberries, cover with shit loads of icing sugar to make it really pretty.
Amy ate 5... She will wake up with an extra ass tomorrow.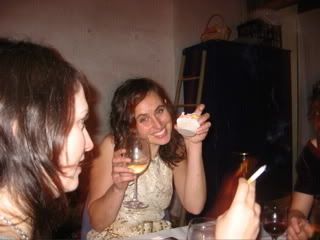 The birthday girl loved the cup cakes, and the wine! She was such a great hostess anyone that can bake a whole barramundi in a gold evening gown is pretty much amazing!
I have really good looking 20 something friends, its disgusting!
Simones new boyfriend Glen's nose looks so jewish in profile, i'm so jealous!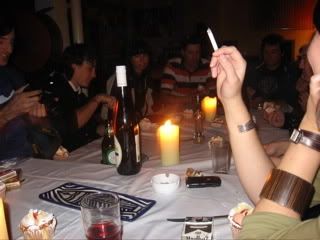 Awww what a table setting, Katie turned up late but that was ok because no one ever see's her anymore. She was seated next to me, which was nice. Although a little boozie Lucy two seats down was very excited about a hatched plan to set me up with a nice jewish boy, Josh... "It will be like seth and summer, although wait.... your more marissa."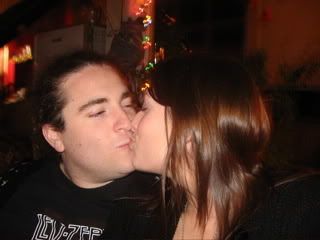 If only i could be as happy as her and her nice jewish boyfriend.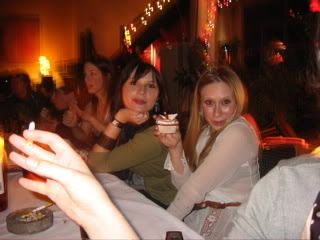 Awww me and Katie, Simone was on the other side, and we noted that politics did come up in conversation that is always a sure sign of a great dinner party!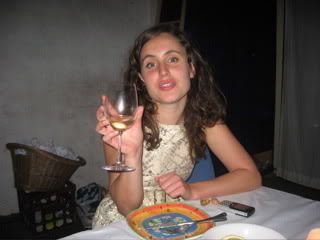 Happy birthday, my beautiful viv sparkle!
Your the sweetest most amazing mid 20 ever!
I LOVE YOU!
xxxxxx