"My name is ASSandra, since listening to Kanye's work out tape I've been able to get my phone bill paid, i got sounds and 13's put on my cavailler and i was able to get an free trip to Cancun....And whats most importantly is that i aint gotta fuck with Ray-Ray's broke ass no more!"
Thats right its the break out summer day, carefully planned. It needed to be a day that wasnt too hot and when the beach wouldnt be too crowded...Today was perfect, what other kind of sad losers go to the beach on a thursday afternoon. Viv and I!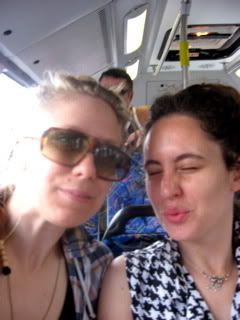 Look we are not even road worthy, we caught P.T to Bronte.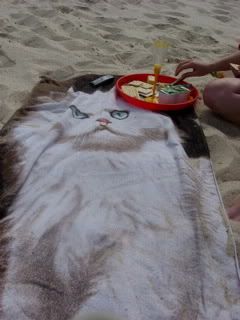 Perfect chance to use my angry cat towel. We had a dairy pinic with 3 kinds of cheese - Peccerino, spiced gouda and bitey chedder, there was also some yogurt and a capsicum.
We are way into lactose and stuff, good teeth and bones are really not valued highly enough.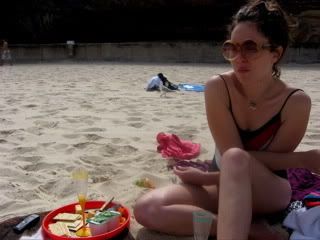 Viv is so pretty, even with a mouthful of gouda. The conversation varied between how penis's look in speedo's to what is Justin Timberlakes best ever song to how i am a really good catch.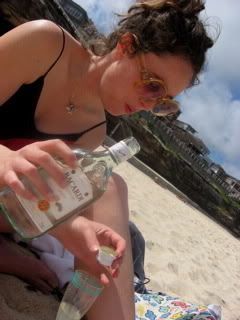 Once again trying to re-live our party party youth, it didnt work. We got thru about 2 drinks and decided we shouldnt get too pissy. Some disturbing news Viv told me, her boyfriend stole her emergency vodka from the freezer! "Oh NO he didnt" was my response. Thats dump worthy stuff worse than kissing your best friends girlfriend at your own wedding!!
I hung out on the leado deck for a while, watch out!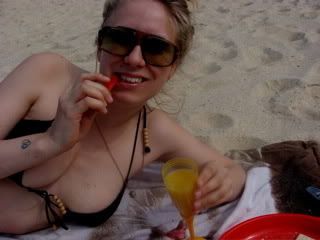 Someone had to eat the capsicum. I've been watching so many episodes of Americas Next Top Model lately with Miss Tyra Bizz-anks, my pose's are getting really good. This one is called : Chest bomb enhancer!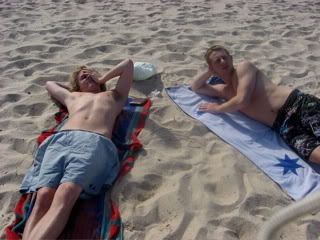 Confirming that my fanclub are the best! Phil and Vitto turned up, they know me so well that i didnt even tell them where i was.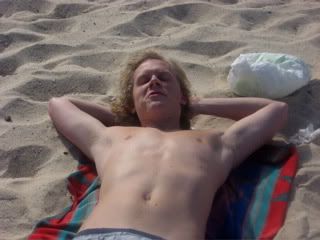 Ladiessssss, dont hound me about this stud. I KNOW! Phil is one hot beef stud, video ezy paddingtons employee of the year is single and taking offers!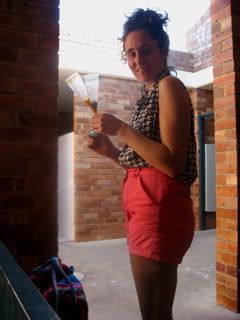 Viv Vaux you look like a little greek grandmother! No one could ever pull off those shorts as well as you..... mama cita.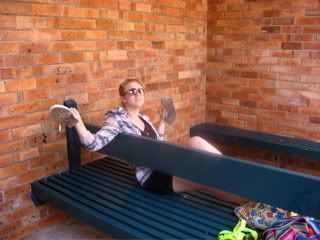 Mean while back in the crap corner, i had a mini break down over sand in my shoes.
Can someone invent a spray that is sand repelling with an spf 1 million!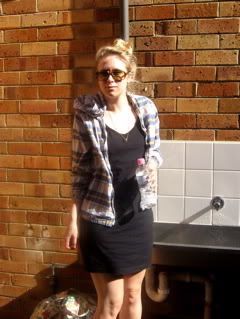 OVAH IT! Lets get back to reality. 378 Bus anyone?!?
You may have picked the song of the day : Kanye West's - Work out plan.
It should be give out to everyone when they join fitness first along with the water bottle, back pack and key ring.
Kanye is just keeping the world sexy, but hey not everyone is buying it:
THANKS TO KANYES WORK OUT PLAN I'M THE ENVY OF ALL MY FRIENDS, SEE I PULLED ME A BALLER MAN AND I AINT GOTTA WORK AT THE MALL AGAIN!
xxx