*CONVERSATION:
Many times i've seen shy little wall flowers sitting on the side lines, when approached they whimper about how shy they are. Cut the crap bitch! If you really cant think of anything to start a converstation with here are some ideas:
"This party really blows, want to see my chest bombs?"
*This line works in any kind of situation, and lets face it most girls have there tits hanging out at parties anyway.
"What do you do? I'm really boring."
*This line works at most fashion/music/pretentious functions, because the person your talking to is more than likely very happy to self promote whatever lame ass wanky industry job they have. They probably either a stylist/art director/graphic designer.
Careful this could take up the whole party.
"You slept with my boyfriend."
*Sydney is a cesspool of incestuous aging desperate sluts and cheating boyfriends who never miss a party."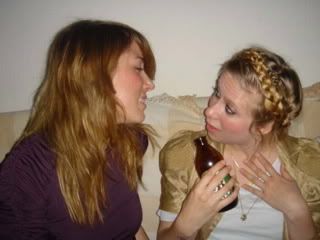 Sarah and i are demonstrating, see how intested i am that she is a graphic designer.
Wowing me with photoshop knowledge, oh yeah i eat adobe illistrator for breakfast.
CANAPES:
Time and again when arriving at a party you can already see the carnage out the front, pretty girls puking all over their day turned night outfits.
Stupid girls limiting foods, because didnt you know every girl in Sydeny is; WHEAT, GLUCOSE, SUGAR, LACTOSE, CARB, YEAST intollerant?!?!?! So that small garden salad sans the bread roll from wellbeing at 12pm for lunch is not exactly going to line your stomach for the function/party that starts straight after work.
The saying 'Eating is cheating' should be left to annorexic's and council workers on friday's past midday.
So eat the food at parties! You'll still get drunk, just not to the point of regurating in your bosses mouth while pashing him.
Alicia Rose and i were knocking back party pies at an alarming rate, but thats ok because we didnt Puke or Pash...That is the beauty of canapes.
NUDITY:
Now i know i just told you flashing your norks is a good conversation starter, but thats only if your ta-tas are young fresh and clean and you do it in a dark corner.
Nudity can be just plain disgusting, Craig here has had a bad case of beer-block. Most boys get this after drinking all day in the sun, he is a cold mess. Sitting on Gareths sofa there is direct contact between BUM AND SOFA.... ewwwwwww.
PASS OUTS: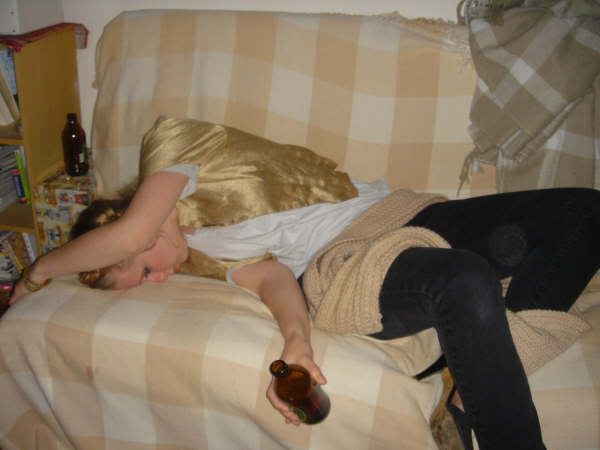 This is ok if you are faking it to get your boyfriend to leave, or to get out of talking to your asshole ex boyfriend. But they are they only acceptable situations, otherwise if this happens to you... AA IS THATA WAY >>>>>>>
Lastly here are some tried and tested party anthems:(all dedicated to tyson!)
2unlimted - get ready for this
Red nex - Cotton eyed Joe
Coolio - 1,2,3,4 Get your woman on the floor
dj Kool - Let me clear my throat
Snap! - Rythym is a dancer
La bouche - Mr vain
Guru Josh - infinity
SPEAKING OF PARTIES, I WILL BE RETURNING TO POD WARS ON SATURDAY.
xxx